Products
The future of healthcare demands information technology to enable personalized care, driven by knowledge-based content. Τhe know-how and rich experience of the Institute of Computer Science of the Foundation for Research and Development, along with the very good knowledge of the Health Services and it's excellent collaboration with the Primary Care Units and the Hospitals of the island of Crete contributed significantly to design specialized information network systems.
Integrated Care Solutions has developed a solution for every patient-centric healthcare system, in order to proactively manage clinical and administrative processes and activities. ICS facilitates increased efficiency, productivity and quality of care.
Each software module can be installed at one or more departments of a health system in collaboration with one or more other software modules and be fully operational. All applications can exchange information, so that all records are stored uniformly and reviewed by all users with permission rights. At the same time these applications can exchange information with disparate systems that support international standards.
Many of these applications fully operate since 1998, while from midst 2007 all the applications are operational in more than 20 Hospitals and 60 Primary Care Units in Greece.
Each application can operate either independently or in conjunction with others.
All applications can communicate with each other electronically. Interoperability is supported with third party systems through the use of national or international standards.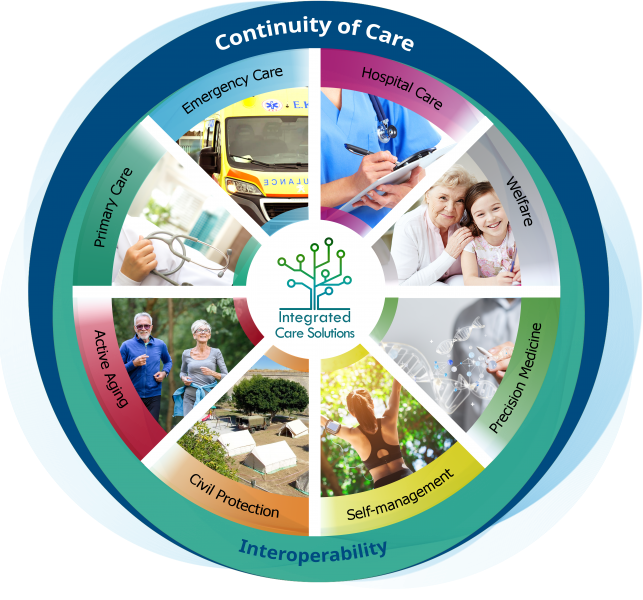 Below is a list with the products of CeHA:
ICS – A (Administrative)
Integrated Care Solutions – Patient Administration or Patient Management consisting of:
Appointment Booking System (A-ABS)

Emergency Department Patient Book (A-EPB)

Emergency Department Priority List or Emergency Department Standby Priority List (A-EPL)

Hospital IT Department (A-ITD)

Hospital Management Information System (HMIS)

Hospital Pharmacy Information System (HPIS)

Information Office (A-INF)

Outpatient Pharmacy Admissions Office (A-PAO)

Patient Status Information (A-PSI)

Radiology Information System Admissions Office (A-RIS)

Staff Examination Admissions Office or Staff Examination Admission Office (A-SAO or SE-AO)

Vaccination Admissions Office or Vaccination Admission Office (A-VAO)
ICS – C (Citizen)
Integrated Care Solutions - Citizen consisting of:
Appointment Booking System for the Citizen (C-ABS)

Appointment for Employee Clinical Examination (AE-CE)

Appointment for SARS-COV-2 Diagnostic Test (A-SARS-COV-2-DT)

Appointment Secretariat COVID-19 (AS-COVID-19)

Examination COVID-19 (EX-COVID-19)

Frailty Management App for Administrator (FM-A)

Frailty Management App for Formal Care Professional (FM-FCP)

Frailty Management App for Informal Care Giver (FM-ICG)

Frailty Management App for Older Adult (FM-OA)

Home Care Application for Healthcare Provider (HC-HP)

Home Care Application for the Citizen (HC-C)

My Diabetes Advisor for Patients (MDA-P)

My Diabetes Advisor for Physicians (MDA-D)

Palliative Care Application  for Healthcare Professional (PCA-HP)

Palliative Care Application  for Patient  (PCA-P)

Perioperative Stress Management App for Administrator (PSM - A)

Perioperative Stress Management App for Care Giver (PSM – CG)

Perioperative Stress Management App for Healthcare Professional (PSM – HP)

Perioperative Stress Management App for Patient (PSM – P)

Personal Health Record for the Citizen (PHR-C)

Personal Health Record Viewer for Healthcare Providers (PHR-HP)

Personal Medical Information Recommender (PMIR)

Safe in COVID-19 for Healthcare Provider (SC-HP)
Safe in COVID-19 for Public Administration (SC-PA)
Safe in COVID-19 for the Citizen (SC-C)
ICS – CP (Civil Protection)
Integrated Care Solutions - Civil Protection consisting of:
Crisis Management System - Building Assessment (CMS-BA)

Crisis Management System - Camp Management (CMS-CM)

Crisis Management System - Evacuation Monitoring (CMS-EM)

Crisis Management System - Medical Care (CMS-MC)

Crisis Management System - Registration (CMS-R)

Crisis Management System - Reports (CMS-R)

Crisis Management System - Warehouse (CMS-W)
ICS – E (Emergency Care)
Integrated Care Solutions – Pre-Hospital Emergency Care consisting of:
Ambulance Crew Application for Stroke Management  (ACA-SM)

Automated External Defibrillator Network Management (PHE-ED)

Incident Monitoring (Ambulance part) (PHE-AA)

Incident Monitoring (Coordination Center part) (PHE-IM)

Pre-Hospital Emergency Care Protocol Management (PHE-PM)

Radio Dispatcher Application (PHE-RD)

Telephone Operator Application (PHE-TO)
ICS – H (Health Information Infrastructure)
Integrated Care Solutions – Health Information Infrastructure (ΗΙΙ) consisting of:
Audit Record Repository - IHE ATNA Service (ATNA-ARR)

Barcode Printer Service (BPS)

Clinical Observations Access Services (COAS)

Collaboration Service (CS)

Common Terminology Services (CTS)

Crystal Reports & Barcode Labels Spooler (CRBLS)

Decision Support Service (DSS)

DICOM Interface Objects (IO-DICOM)

Document Registry - IHE XDS Service (Dreg-XDS)

Document Repository - IHE XDS Service (DRep-XDS)

ECG Interface Objects (IO-ECG)

Eligibility Query Request Service (EQRS)

Health Resource Service (HRS)

Helper Interface Objects (IO-H)

HL7 Gate (HL7G)

HL7 Interface Objects (IO-HL7)

HRS Interface Objects (IO-HRS)

IHE XDS Service (XDSS)

Integrated Electronic Health Record Indexing Service (I-EHR IS)

Inventory Retrieval Service (IRS)

Message Broker (MB)

Ministry of Health BI Connect Service (BI-CONN)

Person Identification Service (PIDS)

PHR Access Services - Alerts (PHR-AS-AL)

PHR Access Services - Allergies (PHR-AS-AL)

PHR Access Services - Appointments (PHR-AS-AP)

PHR Access Services - Communication (PHR-AS-CM)

PHR Access Services - Demographics (PHR-AS-DE)

PHR Access Services - Documents (PHR-AS-DO)

PHR Access Services - Drugs or Medications (PHR-AS-DR)

PHR Access Services - Exams or Lab Exams (PHR-AS-EX)

PHR Access Services - Immunizations or Vaccinations (PHR-AS-IM)

PHR Access Services - Medical Procedures or Procedures (PHR-AS-MP)

PHR Access Services - Palliative Care Data (PHR-AS-PC)

PHR Access Services - Patient Tracking (PHR-AS-PT)

PHR Access Services - Problems (PHR-AS-PR)

PHR Access Services - Profiler (PHR-AS-PF)

PHR Access Services - Quality of Life (PHR-AS-QL)

PHR Access Services - Self-Assessment (PHR-AS-SA)

PHR Access Services - User Authentication (PHR-AS-UA)

PHR Access Services - User Management (PHR-AS-UM)

PHR Access Services - Vital Signals or Vital Signs (PHR-AS-VS)

PHR Accesss Services – Educatation & Information (PHR-AS-E&I)

PHR Accesss Services – Lifestyle Monitoring (PHR-AS-LM)

PHR Accesss Services – Planning (PHR-AS-P)

PIDS Interface Objects (IO-PIDS)

Primary Care EHR Access Services (PC-EHR-AS)

Referral Retrieval Service (RRS)

Security Interface Objects (IO-S)

Social Security Request Service (SSRS)

XML Acceptor (XML-A)

XML Creator (XML-C)
ICS – I (Integrated Electronic Health Record)
Integrated Care Solutions – Integrated Electronic Health Record (I-EHR) consisting of:
I-EHR Viewer

Integrated Booking System (IBS)

Master Patient Record Management (MPR)
ICS – M (Medical)
Integrated Care Solutions – Nursing and Medical Applications consisting of:
Arthroplasty Surgery Management System (EMR-ASM)

Clinical Decision Support System (CDSS)

Computerized Medical Record (CMR)

Electronic Health Record for medical specialties: Pathology, Cardiology, Paediatrics, Orthopaedics, Intensive Care Unit etc (EHR)

Electronic Medical Record for Bipolar Disorder (EMR-BD)

Electronic Medical Record for Cardiology (EMR-CARD)

Electronic Medical Record for Epilepsy (EMR-EPL)

Electronic Medical Record for Intensive Care Unit (EMR-ICU)

Electronic Medical Record for Internal Medicine (EMR-IM)

Electronic Medical Record for Orthopedics (EMR-ORTH)

Electronic Medical Record for Pediatrics (EMR-PED)

Electronic Medical Record for Social Workers (EMR-SW)

Electronic Prescription (EP)

Emergency Department (ED)

Hospital IT Department (M-ITD)

Outpatient Clinic (OC)

Patient Record ID Management (PRIM)

Rheumatic Diseases Registry (RDR)

Staff Examination (SE)

Stroke Medical Management Application (SMMA)

Supply Management (SM)

Triage Application (TRA)
ICS – P (Primary Care)
Integrated Care Solutions – Primary Health Care consisting of:
Electronic Medical Record for General Medicine (PC-GM)

Electronic Prescription (PC-EP)

Primary Care Unit Appointment Management (PC-AM)

Primary Care Unit Electronic Health Record (PC-HR)

Primary Care Unit IT Department (PC-IT)

Primary Care Unit Reception (PC-UR)

Primary Care Unit Supply Management (PC-SM)

Private Practitioner Electronic Health Record (PC-PP)
ICS – PM (Precision Medicine)
Integrated Care Solutions - Precision Medicine consisting of:
ICT Platform for the Management of Clinical and Genomic Data of Patients with Inherited and Rare Cardiovascular diseases (PM-MCGD)

Laboratory Information Management System and Biobank (PM-LIMSB)

Referral Management Platform for Hematological, Inherited, and Solid Tumors (PM-RMP)

Registry for Sudden Death in the Young (PM-RSDY)

User Management System (PM-UMS)
ICS – S (Support)
Integrated Care Solutions - IT Support consisting of:
Business Calendar (S-BC)

Computerized Medical Record Migration (S-CMR)

Contracts Management System (S-CM)

DRG Monitoring Application (S-DRG)

eHealth Bot (S-B)

Electronic Medical Record Migration (S-EMR)

ICS-A & ICS-M Configuration System (S-CS)

Instructions Management System (S-IM)

New site of CeHA (FORTH eHealth Web Site)

Ticketing System (S-TS)

Transplant Management System (S-TMS)
ICS – W (Welfare)
Integrated Care Solutions – Welfare consisting of:
Welfare Unit Admissions Office (WF-AO)

Welfare Unit Appointment Management (WF-AM)

Welfare Unit Electronic Health Record (WF -HR)

Welfare Unit IT Department (WF-IT)

Welfare Unit Reception (WF-UR)

Welfare Unit Supply Management (WF-SM)
ICS – Χ (PACS)
Integrated Care Solutions – Picture Archiving and Communication consisting of:
miniPACS Management Application (miniPACS-M)

Picture Archiving and Communication Service (miniPACS-S)