Services
The Human-Computer Interaction Laboratory of FORTH-ICS provides user research and usability consulting services, throughout the user experience lifecycle of interactive applications and services. Following User-Centred Design and Design for All approaches, the HCI Laboratory supports the activities of user requirements and context of use analysis, user experience design and user experience evaluation.
The Laboratory has an established tradition in a variety of research and analysis methods, including interviews, focus groups, brainstorming, task analysis, use case analysis, scenarios, personas, and user observation.
User experience design activities involve visual design, interaction design, information architecture design, and industrial design, addressing a variety of application domains, such as desktop, web and mobile applications, large-screen interactive systems, and Ambient Intelligence environments.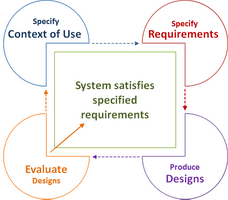 An important activity throughout the entire design, development and deployment lifecycle is user experience evaluation. Services in this domain include paper prototyping, high fidelity mockups' and interactive systems' evaluation, through a variety of methods such as expert-based evaluation with usability and accessibility experts, user testing in the laboratory, and user observation in the field.
Evaluation of a smart table for children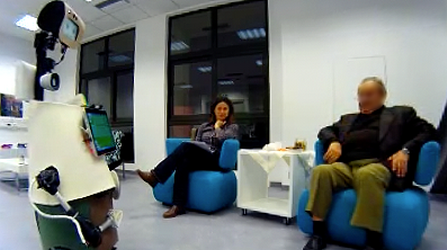 Evaluation of a home care robot
User experience design services support the entire lifecycle of design, development and deployment of interactive products and applications. The HCI Laboratory services in this area specialize in particular in two main domains where the Lab has high expertise: (i) Universal Access, Design for All and Assistive Technologies, and (ii) interaction in Ambient Intelligence Environments.
Design for All
The HCI Lab is actively engaged in technology and applications design and development in a variety of domains, including access to the World Wide Web, text processing, electronic books, interpersonal communications, special education and vocational training, health telematics and wearable computing.
Interaction Design for Ambient Intelligence Environments
The pervasiveness of interaction in AmI environments requires the elaboration of new interaction concepts that extend beyond the current user interface concepts. The HCI Lab designs innovative Ambient Intelligence applications employing novel interaction techniques and multimodal combinations of existing advanced techniques, including touch, pen-based and gesture-based interaction, interaction through head and body movements, as well as interaction through physical objects.
Installations of interactive systems designed by the HCI Lab

Oil mill. Chania Airport, Crete
 

MediaGallery, Heraklion Airport, Crete

Paximadaki Game, Heraklion Port, Crete

Multimodal Diverse Travel, Archeological Museum
of Thessaloniki

Panoptes, Archeological Museum of Thessaloniki
Download the leaflet
E-government Applications

The HCI Lab designs and develops innovative services and applications that address administrative and customer service issues in public sector organizations. A successful example of such solutions is HERQUEUELESS, an innovative online appointment and queue management system that aims at eliminating long physical queues and providing effective and efficient customer services.