HERQUEUELESS
HERQUEUELESS Online Appointment and Queue Management Solution
HERQUEUELESS is an innovative software solution for the public and private sector that aims at eliminating long physical queues by providing effective and efficient customer services. Like Hercules, the HerQueueLess solution makes a stand against the Hydra monster of bureaucracy.
The solution helps towards:
Efficient management of resources
Transparency improvement / fight against corruption
Dissemination of knowledge and information
Success Story
HERQUEUELESS has been in operation in the Department of Transport and Communications (DTC) in the city of Heraklion in Crete, Greece since November 2015. DTC is a vital division of the Region of Crete, executing a heavy load of public sector administrative services for a large number of citizens/customers.
In the first quarter of 2017, HERQUEUELESS successfully handled a total of 6251 administrative cases requested by 4985 individuals. 60% of them used the online appointment service with an average waiting time of 13 minutes.
E-services for citizens
Online Appointment Service
Using the online appointment service, customers/citizens can schedule their visit on a particular date and time and, if necessary, fill in and electronically submit the required application forms. Upon the completion of the booking process, an e-ticket is created and sent at the user's email address. Automatic reminders are sent prior the scheduled appointment date.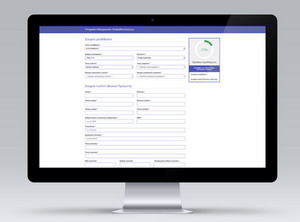 Virtual Queue
The virtual queue operates alongside the appointment system, used by who that don't have a booked appointment. Employees at reception desks can create and print personalized queue tickets that contain the necessary information for the customer request.
Real-time Notifications
Any TV or PC monitor can be turned into an information screen. Information screens display information regarding customer assignment to service desks with visual and sound announcements, estimated waiting times, as well as informative videos.
A specially designed version of the notification screen is available on mobile devices in order for customers to have on the go access to the status of their queue or appointment.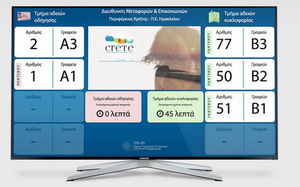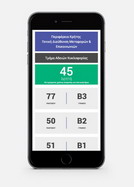 Administrative and Backoffice Applications
Customer Management Application
Employees use the customer management application to:
Monitor virtual queue list and daily appointments schedule
Issue virtual queue tickets
Call and assign customers to customer service desks
Manage electronically submitted application forms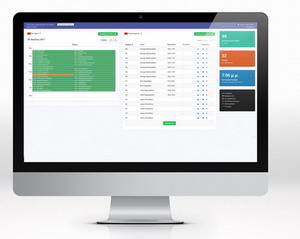 Business Intelligence/Statistics Application
Provides usage statistics and real time system monitoring (waiting times, number of working stations, employee performance etc.) A decision making subsystem assists managers in the optimal management of resources during peak times.
System Administration
This application is used to parameterize and customize the booking engine and all transactions associated with the customer service process (user authorization, calendars, available booking spots per period, office departments/divisions etc.)