Margherita Antona
Nid: 100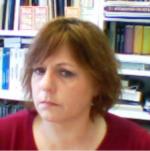 Dr. Margherita Antona is principal researcher at the Human - Computer Interaction Laboratory of ICS-FORTH.
Research Interests
Universal access and design for all
Ambient Intelligence and smart environments
Computer-supported user interface design
Adaptive and intelligent interfaces
Interaction design for older and disabled users
Assistive technologies
eLearning
Involvement in Research Projects
2011 - 2014 FP7-ICT-HOBBIT "HOBBIT - The Mutual Care Robot"
2010 - 2013 FP-7-ICT-VERITAS "Virtual and augmented environments and realistic user interactions to achieve embedded accessibility design"
2010 - 2013 FP7-ICT-CARDIAC "Coordination Action in R&D in Accessible and Assistive ICT"
2009 - ongoing ICS-FORTH Ambient Intelligence Programme
2009 - 2012 AAL-REMOTE
2008 - 2012 FP7-ICT-ACCESSIBLE "Accessibility Assessment Simulation Environment for New Applications Design and Development"
2008 - 2011 FP7-ICT-OASIS "Open architecture for Accessible Services Integration and Standardisation"
2007 - 2009 FP6-ICT-DfA@eInclusion "Design for All for in eInclusion"
2006 - 2009 FP6-ICT-FET-InterLink "International Cooperation Activities in Future and Emerging ICTs"
2004 - 2007 FP5-ICT- DELOS "A Network of Excellence on Digital Libraries"
2004 - 2005 FP5-ICT- eUser "Evidence-based support for the design and delivery of user-centred on-line public services"
2003 - 2005 FP5-IST-D4ALLnet "Design for All Network of Excellence"
2001 - 2003 FP5-IST-SEN-IST-NET "European Network of Excellence in Information Society Technologies for Special Educational Needs"
2000 - 2003 FP5-IST-IS4ALL "Information Society for All"
2000 - 2001 EPET-II – HERMES "New Technologies for Distance Education"
2000 - 2001 EPET-II - SOFTWARE USABILITY "Human Network on Software Usability"
1999 - 2001 EPET-II - DIALEXIKO "Development of a Lexical Database for the Modern Greek language organised into semantically interrelated sets"
1996 - 1998 HORIZON – HESTIA "Vocational Training of People with Special Needs in Computer-based Working Environments"
1994 - 1996 TIDE TP1001 – ACCESS "Development platform for unified ACCESS to enabling environments"
Short CV
Dr. Margherita Antona holds a B.A. in Computational Lingusitics from University of Pisa, Italy, and a PhD from the Department of Electronic Engineering of the University of Kent, UK, in the area of Human-Computer Interaction. She is member of the HCI Laboratory of ICS-FORTH since 1993. She has participated in more than 20 European and national R&D projects. She is Deputy Coordinator of the KRIPIS National Project "Quality of life", and the scientific responsible for the participation of ICS-FORTH in the projects AAL-REMOTE and FP7-ICT-VERITAS, as well as the technical coordinator of ICS-FORTH participation in the European projects FP7-ICT-ACCESSIBLE, FP7-ICT-OASIS, FP7-ICT-CARDIAC, FP6-ICT-DfA@eInclusion, FP5-ICT- DELOS and FP5-ICT- eUser. She has coauthored more than 90 scientific publications. She is Co-Chair of UAHCI 2013 and member of the Editorial Board of the Universal Access in the Information Society International Journal. She is member of Program Committee and Paper Review Committee in various international conferences and workshops. Prior to 1993 she was researcher at the Institute of Computational Linguistics of CNR in Pisa.