Chrysoula Bekiari
Nid: 150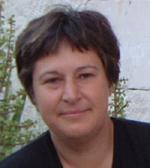 Chrysoula Bekiari is an R & D engineer in the Information Systems Laboratory and the Centre for Cultural Informatics of the Institute of Computer Science, FORTH.
Experience
She has participated in more than 30 different EU and national projects since 1985  under different roles, from technical staff, to technical coordinator, to coordinator or scientific responsible and  has gained skills and experience in  (i) requirements analysis and functional specifications of advanced information systems, (ii) knowledge organization, (iii) conceptual modeling of information structures for supporting semantic interoperability,(iv) harmonization of database schemas, (v) ontology engineering in the areas of Cultural and Scientific Heritage.
Since 2002, she has participated in CIDOC CRM Special Interest Group and CIDOC FRBR Harmonization Meetings worked as a contributor and co editor.
Work Experience
1985 – Present:  Research and development engineer, Coordinator, Centre for Cultural Informatics (CCI)-Information Systems Laboratory (ISL) – Institute of Computer Science (ICS) - Foundation for Research and Technology Hellas (FORTH), Heraklion, Crete, Greece.
1985-1992: Taught the following undergraduate courses:  introduction to computers, database systems, programming languages at Technical University of Crete, Heraklion, Crete
1998-1999, 2002-2003: Taught graduate course about methods and systems of cultural documentation at University of Crete, Heraklion, Crete
Education
BSc. in Mathematics, University of Patras, Greece, 1980
M.A. in Computer Science, Queens College of the City University of New York, 1985
Projects she is currently involved include: