Manolis Lourakis
Nid: 107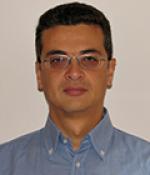 Dr. Manolis Lourakis is a Researcher in the Computational Vision and Robotics Laboratory of the Institute of Computer Science, FORTH.
Research Interests
His research interests are in the broader area of Computer Vision:
Multiple and single view geometry
Structure and motion estimation
Visual motion analysis and object tracking
Feature matching, registration and stereo vision
Shape reconstruction and analysis
Numerical optimization in vision
Camera calibration
Robotic vision
Related applications
Participation in Recent Research Projects
DARWIN – Dextrous Assembler Robot Working with Embodied Intelligence (FP7 ICT-2010-270138).
BIMAutoGen – Automatic generation of Building Information Models (FP7 Marie Curie PIRSES-2009-247586).
RECOVER – Photorealistic 3D Reconstruction of Perspective Paintings and Pictures (COOP-CT-2005-017405).
MultiSens – Cameras as Multifunctional Sensors for Automated Processes (COOP-CT-2004-512668).
MUSCLE – Multimedia Understanding through Semantics, Computation and Learning Network of Excellence (FP6-507752 NoE).
LIFEPLUS – Innovative revival of life in ancient frescos - paintings and creation of immersive narrative spaces, featuring real scenes with behaviored virtual fauna and flora (IST-2001-34545).
Short CV
Manolis Lourakis is a Principal Researcher at the Computational Vision and Robotics Laboratory of the Institute of Computer Science, FORTH. He holds a PhD in Computer Science obtained from the University of Crete, Greece in 1999.
Dr. Lourakis has held appointments at INRIA Sophia-Antipolis, France and the Computer Science and Applied Mathematics Departments of the University of Crete, Greece. Since joining FORTH-ICS as a researcher in 2002, he has been involved in several RTD projects funded by the European Commission. His research interests include topics related to multiple and single view geometry, motion tracking and analysis, stereo, registration and matching, camera calibration, 3D reconstruction, 3D shape recovery and analysis, robotic vision, and numerical optimization. On these topics he has published several papers in the major vision conferences and journals, for which he also serves as a regular reviewer.